Christianity, Law, and Contracts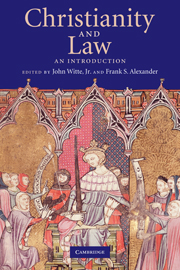 With all the chatter recently about Sarah Palin and the religious right, and Barack Obama and Jeremiah Wright, it's all too easy to charicature the relationship between law and religion in general, and law and Christianity in particular. A splendid new book edited by John Witte and Frank Alexander, Christianity and the Law: An Introduction (Cambridge University Press 2008), seeks to recover the deep and nuanced connections between Christian social theory and Western jurisprudence. Unlike many polemical works written by today's battling theonomists and strict separationists, Christianity and Law doesn't dwell on defining founding myths about America and its original status as either a religious "city on a hill" or a walled garden in which enlightened rationalists could feel safe from the Church. Most of the essays in Christanity and Law dig deeper into the Jewish, Roman and medieval roots of Christian jurisprudence.
Among the many gems uncovered in this excavation is Harold Berman's chapter "The Christian Sources of General Contract Law." Berman summarizes those roots as follows:
In subsequent centuries, many of the basic principles of the canon law of contract were adopted by secular law and eventually came to be justified on the basis of will-theory and party autonomy. It is important to know, however, that originally they were based on a theory of sin and a theory of equity. Our modern Western contract law did not start form the proposition that every individual has a moral right to dispose of his property by means of making promises, and that in the interest of justice a promise should be legally enforced unless it offends reason or public policy. Our contract law started, on the contrary, from the theory that a promise created an obligation to God, and that for the salvation of souls God instituted the ecclesiastical and secular courts with the task, in part, of enforcing contractual obligations to the extent that such obligations are just. (Christianity and Law, at 132).
This broadly social notion of contracts was modified, Berman notes, during the Puritan era. The Puritans' strong notion of total depravity made them less willing to place the authority to determine which obligations are "just" in the hands of a magistrate. Moreover, the Puritans' emphasis on order inclined them to seek the meaning of contractual documents in the literal words of the document rather than in an overarching contractual hermeneutic of justice. However, even for the Puritans, "private" contracts were social obligations within the all-inclusive fabric of God's covenantal relationships with people. Private contractual relations were not really "private" — they were covenantal relations between people who were also bound in covenantal relation to God. As Berman notes,
the Puritan stress on bargain and on calculability ("order") should not obscure the fact that the bargain presupposed a strong relationship between the contracting parties within the community. These were not yet the autonomous, self-sufficient individuals of the eighteenth-century Enlightenment. England under Puritan rule and in the century that followed was intensely communitarian. (Id. at 140).
In the Eighteenth and Nineteenth Century Enlightenment, these theories of contract based on justice and covenant were secularized. Justice and covenant were replaced with "the inherent freedom of each individual to exercise his own autonomous reason and will, subject only to considerations of social utility." (Id.) These Enlightenment ideas "broke many of the links not only between contract law and moral theology but also between contract law and the comunitarian postulates which had informed both Catholic and Protestant legal traditions." (Id. at 140-41).
It is a shame, I think, that contemporary Christian legal theory — at least that which we hear about during major elections — seems to focus so heavily on notions of individual freedom to contract that are more post-Christian than Christian. Religious people may feel they have only two options: the current prevailing secular legal theory of contracts, which is strictly realist and pragmatic and elides any notion of higher values, and the religious right's libertarian view of contract, which elevates the individual far above the community. I agree with Berman: "[w]e may learn from history . . . that there is a third possibility: to build a new and different theory on the foundation of the older ones." (Id. at 141).